YAY! The second week of "My 5" Mondays. I am loving this little segment. In a few weeks I will run out of ideas for this segment, so feel free to brainstorm with me! This week's "My 5" is reality shows. Since I have already stated in my "about me" section my addiction with reality shows, I figured this would be a good place to share some of my favs!
"My 5 Favorite Reality Shows"
1. American Idol
Well I am obsessed with this show. No matter how hard I try, I can't help but get so involved in it every season. This past season I wasn't too crazy about for the longest time, but in the end I was so incredibly happy watching Lee Dewyze snag the title of "American Idol". I don't think this show will be the same whatsoever without Simon next season, but hopefully the talent will still be good! Be sure to catch my weekly recaps beginning in January!
2. Deadliest Catch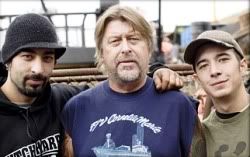 Well this show has DEFINITELY become my new obsession. I L-O-V-E it!! I posted an entire entry about my obsession with this show previously. Like I said in that entry, I only started watching this show because I caught an eppy at 3 am on a Saturday. I have seen the entire season of the most recent season that just ended last week. Capt. Phil (pictured above middle with his two sons) died this season so that made it soo hard to watch. The show did an incredible job of airing his time in the hospital, which he requested be done. I am getting caught up on previous seasons thanks to NetFlix and can't wait to see what happens with Capt. Phil's boat and sons next season! I highly recommend this show to everyone. You won't be disappointed!
3. The Biggest Loser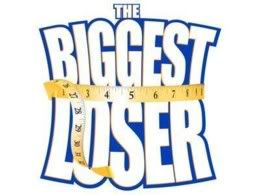 Like the previous two shows, I am also addicted to this show. (All of my top 3 shows air on Tuesday nights which really makes it difficult!) This show completely amazes me. I always watch the entire season and am astonished by the weight loss of all the contestants. Most contestants lose AT LEAST 40% of their original weight, the top 3 "losers" generally lose more than half of their original body weight. It is all done the right way too. Eating right and exercise. Granted they are exercising about 8 hours a day, but still. No surgeries, no pills, just hard work and eating healthy. I love Bob and would soo choose him as my trainer if I were these people. Jillian just scares me. I am so into this show that I have bought 4 of the exercise DVDS, the cookbook, exercise ball, Wii game, and scale. I am pretty sure I say the words "oh my gosh" during the season at least 50 times.


4. Real World/ Real World Road Rules Challenges
The Real World was one of the first reality shows I ever watched. It was also one of the first reality shows ever taped. The premise is the same for every season: take seven (or eight) strangers of different backgrounds, genders, sexual preference, and religion and stick them all in an amazing house, with the staple hot tub of course. I haven't actually seen the last couple seasons of The Real World because it is of course on the same night as everything else I watch. I generally am always able to catch the spin off of The Real World, which is The Real World/ Road Rules Challenges. This is even more drama filled than The Real World because we have about twenty or so people living in one house, forming alliances, drinking way too much, and hooking up with fellow cast mates throughout the season. It's like a car accident, no matter how hard you try to look away, you can't help but watch.
5. The Bachelor/ The Bachelorette

Well as much as I hate to admit it, I can't help but watch this show. I will never quite understand it though. How is it that every bachelor or bachelorette is good looking and has a decent job and yet they can't find a significant other. Seriously? I also generally never agree with who they end up picking as their fiance in the end, yet still I can't not watch. I would like this show a little bit more if people actually had a relationship that lasted more than a year though, Trista and Ryan being the exception of course!
So there you have it. My 5 reality show addictions. I'd have to say the most real of these is of course "Deadliest Catch" with "American Idol" and "Biggest Loser" in a second place tie. I'm not gonna believe that "The Bachelor/ Bachelorette" isn't staged at least a little bit seeing as how someone always ends up being there "for the wrong reasons". Still love them all though and never miss an eppy of any of them. What are your favorite reality shows? Does anyone else think that "Deadliest Catch" is the most real show on TV these days?