Well my lovely followers, I am aware that I haven't been doing mch updating lately other than my Idol recaps so I thought I would change that by posting a new multi-post segment called "Child of the 90's". Now I was born in 1984, which means I spent the majority of my childhood in the 90's. Let me just say I think it had to have been the best decade to grow up in! We had great FAMILY friendly tv shows, movies, music and we spent a majority of our free time playing OUTSIDE with friends. It was the decade that the internet became popular, but not as time consuming as now. People also had cell phones, but for the most part they were all over the age of 18. You didn't see 8-11 year olds walking around with their OWN cell phone. Nope, back in my day we had to use the old landline to get in touch with friends or actually use our two feet to walk or ride to their house. I actually sometimes miss being a kid. Life was so much easier when you only had to worry about going to school and doing homework. No worries about bills, no $4 gas prices, no terrorism worries. Life was so much simpler back then!
The first part will be dedicated to the great family tv shows that came out of the 90's (or late 80's that were still popular in the 90's). Now I'm sure you all know that I am a reality show junkie! I love me some American Idol, Deadliest Catch, The Bachelor, Biggest Loser, The Voice, etc, but I think I can count on one hand how many scripted family shows there actually are these days (that aren't on the Disney channel or Nickelodeon). So without further ado, here are my favorite (family centric) shows from the 90's (in no particular order):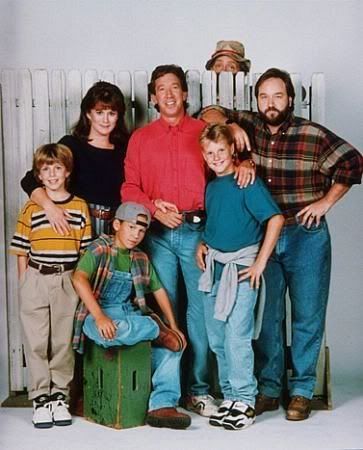 Home Improvement followed the lives of TimTaylor, his wife Jill, their three kids Brad, Randy, and Mark, co-worker Al, and neighbor Wilson. I was seriously addicted to this show as a child. I absolutely LOVED Jonathan Taylor Thomas, or JTT as all of the posters on my wall said. This show came on in 1991 when I was 7 and ended after a successful 8 seasons in 1999. This was a great family show. I remember watching this every Tuesday night, never missing an episode. Of course there was adult humor in it, but I never understood it. Now watching the DVD collection that I am almost through buying, I get to re-watch them and actually understand the jokes that were being made by Tim and Jill. Funny for adults, yet safe enough to watch with the kids. Definetly a classic!!
Okay well this was the best thing ever back in my day. Two hours dedicated to family comedies. Friday night used to be the best night of TV for me. Now TV shows are basically doomed if they move to Friday nights. Here are a few of my favorites that made the TGIF lineup:
Probably my favorite show ever from TGIF. I used to LOVE Rider Strong on this show. I actually recently started watching this again on the ABC Family channel in the mornings. I remembered how much I loved it, that I even started buying the DVDS. Great show that was just the right amount of cheese, without going overboard at all. Oh and I loved when Matthew Lawrence joined the cast for the last few seasons. He was just too good looking!! Ran for seven seasons from 1993-2000.
The 90's answer to The Brady Bunch. Like the Brady Bunch, featured two people marrying that each had three kids of their own. Of course this one was a little more realistic because the kids didn't instantly get along with their new siblings or even their new step parents. Ran from 1991-1998 (last season was on CBS).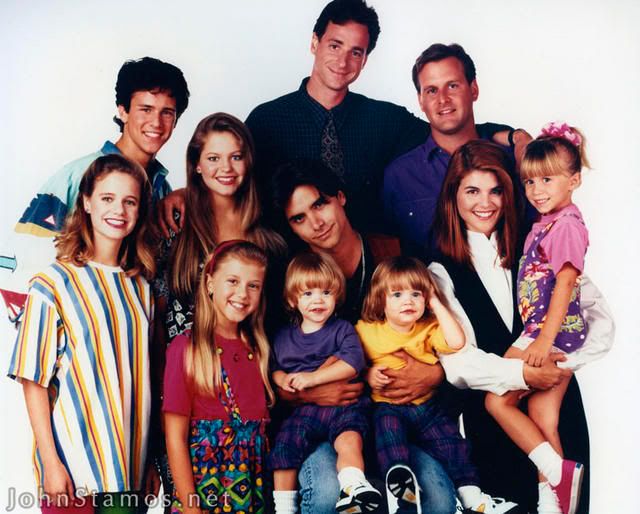 Well even though this show didn't stay in the TGIF lineup for it's entire run, it was there for its first four seasons before moving to Tuesday nights. Full House was the story of a recently widowed father with three young daughters who had his brother in law and best friend move in with him. Of course this show was one of the cheesiest of the 90's, but it is still a classic and was one of my faves as a child. Also seems to have made a good career for the Olsen Twins and featured hottie John Stamos as Uncle Jesse. Unlike some other shows, Full House never aged the kids or made one of them suddenly disappear. The core cast members were played by the same actors for the entire series. Full House ran for eight seasons from 1987-1995.
Family Matters was a spin-off of another TGIF show "Perfect Strangers". It centered around the Winslow family and of course their nerdy neighbor Steve Urkel. The Winslow family featured father Carl who was a cop, mother Harriet, children Eddie, Laura, and Judy (who vanished from the family with no mention whatsoever), Harriet's sister Rachel and her son Ritchie and Carl's mom "Mother Winslow". Fun fact: Family Matters is the second longest running show featuring a predominatly African-American cast (The Jefferson's is #1). The show lasted 9 seasons from 1989-1998 (the last season was on CBS, along with Step by Step).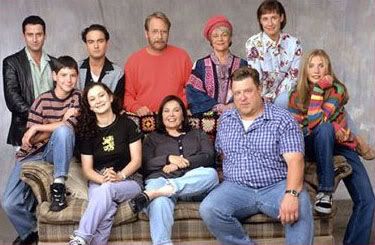 Roseanne certainly wasn't as wholesome as some of the other shows, but still focused around a blue collar family that loved each other. The show followed Dan and Roseane Conner along with their three children Becky, Darlene, and DJ and Roseanne's sister Jackie. Becky's husband Mark and Darlene's boyfriend/husband David (also Mark's brother) also were regular cast members for a majority of the show's run even though they were never featured in the opening credits. In the final season of Roseanne, the family wins the lottery and the show kinda took a bad turn. The last few episodes returned to the family dynamic that everyone loved though. In the final season it was revealed that the entire show was actually a book being written by the character of Roseanne. During the last few lines of the show, we learn that in the supposed real life of Roseanne Conner, Dan actually died from his heat attack and Becky was married to David while Darlene was married to Mark. If that confused you, thats how I remember feeling while watching it :). Roseanne aired for 9 seasons from 1988-1997.
Now of course I am aware that other great shows came out of the 90's. Friends, ER, Seinfeld (not a personal fave, but still incredibly popular), 90210, etc., but I mainly wanted to focus on family comedies since they don't seem to exist anymore.
Check out this fun little original song. Nice little trip down memory lane too!!
What were some of your favorite shows from the 90's?